Waxing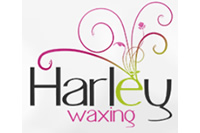 We all need it and none of us like it, so leave it to the professionals.
We use use fabulous Harley hot wax and tea tree based strip wax to make it as pain free as possible.
Electrolysis
Permanent hair removal using sterile 'Sterex' disposable needles for each treatment.
Please note that courses are available – 6 treatments for the price of 5.
10 mins£21.00
20 mins£34.00
45 mins£53.00
60 mins£70.00
Waxing
Using soft gentle cream wax or Harley hot chocolate wax for slightly tougher hairs
Leg
full leg£36.00
3/4 leg£32.00
1/2 leg£27.00
top 1/2 leg£29.00
Arm
full arm£30.00
1/2 arm£23.00
under arm£17.00
hot under arm£19.00
Eyebrows / Lip / Chin / Nose
Eyebrows£19.00
Lip & Eyebrow£27.00
Lip or chin£16.00
Lip & chin£22.00
Nose£5.00
Strip Wax
Full leg & Bikini£49.00
Full leg & Brazilian£68.00
Half leg & Bikini£44.00
Half leg & Brazilian £59.00
Half leg & Hollywood £56.00
Half leg & High Bikini£49.00
Hollywood £42.00
Brazilian £39.00
Bikini£21.00
High£25.00
Top leg & Hollywood £56.00
Top leg & Bikini £44.00
Top leg & Brazilian £54.00
Top leg & High Bikini £49.00
Hot (BK) Wax
Full leg & Bikini£52.00
Full leg & Brazilian£72.00
Half leg & Bikini£47.00
Half leg & Brazilian £63.00
Half leg & Hollywood £58.00
Half leg & High Bikini£51.00
Hollywood £44.00
Brazilian £43.00
Bikini£25.00
High£30.00
Top leg & Hollywood £58.00
Top leg & Bikini £47.00
Top leg & Brazilian £63.00
Top leg & High Bikini £51.00
essential wax package 1
Half leg, bikini, underarm & eyebrow shape£66.00
essential wax package 2
Half leg, Brazilian, underarm & eyebrow shape£82.00
essential wax package 3
Full leg, hot Brazilian, underarm & eyebrow shape£91.00
for men
Back & Shoulders£48.00
Chest or Shoulders£38.00
Prices as at 01/07/19