murad cosmeceutical facial treatments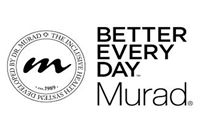 Dr. Murad's clinically proven facials and peels are tailor made to suit your individual skincare needs; combining the most advanced ingredients with the latest skincare technology for instantly youthful, radiant and flawless skin.

All include steam and pore clearing extraction if required.
advanced murad method facial
The new Advanced Murad Method facial has been introduced by leading dermatologist and pharmacist Dr Murad to upgrade all his facials to a new tailor made intensive treatment aimed at addressing your multiple skin concerns and providing you with a customised skin care solution.
This wonderful facial also incorporates rituals and massage techniques to help you alleviate stress.
Perfect for skin concerns such as acne, blemishes, dry mature skin and rosacea as well as all aspects of age related skin conditions from puberty to menopause.
70 mins £84.00
Prices as at 01/07/19