Make-up & Eyes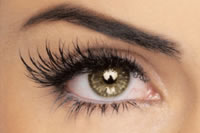 Fabulous film star lashes in a flash

We offer various types of lash extension depending on the look you want. Express lashes are great for a special occasion or even just a couple of extra lashes added to the outer edge of your lid for photographs can make all the difference.
Call in and have a free consultation with our lash specialist Tessa and she can discuss the various lengths thickness and colour of lashes available.
Eyelash tint, Eyebrow tint & shape
£22.00eyelash tint*
£20.00eyelash tint* with facial mask
£16.00eyebrow tint
£19.00eyebrow shape
£27.003D brow shape & tint*
£28.00lash & brow tint*
£44.00eyebrow revive package :
eyebrow shape, lash & brow tint
GDL Lash Lift*
Unlike lash perming that curls the lashes, this treatment lifts and extends your own lashes, straightening them at the root for an instand fuller effect (includes a lash tint).
£68.00
Eyelash extensions*
Individual synthetic lashes are carefully bonded to your own for a wonderful natural look. Tessa will advise you on the thickness, length and style of lash that best suits your eyes. Infills are usually recommended approx. three weeks later.
full setfrom £80.00
infills from £50.00
Make-up
For a special occasion or to try the latest colours from Clarins.
£67.00
Make-up lesson
Tessa will go through all the different types of make-up available, discuss what you already have and then show you how to apply your own make-up to create the look you want.
£67.00
Wedding Make-up
Including a full make-up trial session and make-up on the day.
£120.00
* Please book in for a patch test if this is your first treatment
Prices as at 01/07/19