Male Grooming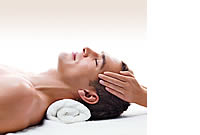 skin blitz facial
(55 mins)

£79.00

Designed to reduce ingrowing hairs, calm and sooth tired skin damaged by shaving and relax aching shoulder muscles. Includes a deep cleanse, steam and extraction followed by a relaxing face, neck and shoulder massage. (If possible please shave prior to having facial treatments)
murad back blitz
(40 mins)

£58.00

A deep cleansing treatment for the back. Great for problem skins or just for total relaxation. Ideal pre-holiday treatment.
new father reviver
(70 mins)

£86.00

A perfect treat for the new father. Or just for the tired old ones! A relaxing back massage plus soothing facial.
back neck & shoulder massage
(25 mins)

£53.00
full body massage
(55 mins)

£82.00
brow grooming £20.00
To tame those wild eyebrows
back and shoulder wax £49.00
chest or shoulder wax £39.00
manicure
(45 mins)

£35.00

This will help keep your hands and nails looking neat, tidy and well groomed.
pedicure
(45 mins)

£45.00

Removes hard skin from your feet and keeps the nails short and well groomed. This treatment includes a relaxing foot massage.