Mens Grooming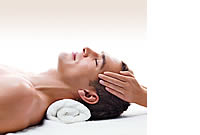 Clarin's skin care for men.

Perfect treatments for rehydrating and deep cleansing.
skin blitz facial
Designed to reduce ingrowing hairs, calm and sooth tired skin damaged by shaving and relax aching shoulder muscles. Includes a deep cleanse, steam and extraction followed by a relaxing face, neck and shoulder massage. (If possible please shave prior to having facial treatments)
£72.0055mins
murad back blitz
A deep cleansing treatment for the back. Great for problem skins or just for total relaxation. Ideal pre-holiday treatment.
£52.0040mins
new father reviver
A perfect treat for the new father. Or just for the tired old ones!
A relaxing back massage plus soothing facial
£83.0070mins
massage
back neck & shoulder£47.0025mins
full body£73.0055mins
brow grooming
to tame those wild brows£18.00
waxing
back & shoulder wax£46.00
chest or shoulder wax£36.00
executive hand and nail treatment
This will help keep your hands and nails looking neat, tidy and well groomed.
£29.0030mins
executive foot treatment
Removes hard skin from your feet and keeps the nails short and well groomed.
This treatment includes a relaxing foot massage.
£40.0045mins
Prices as at 04/06/18