St Tropez -Treatment advice and Preparation for Applications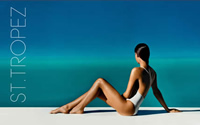 Do not wax or shave on the morning of the treatment – this should be done 24 hours prior.
Do not wear apply any perfumes, deodorant or moisturisers to the skin – the therapist will prepare and provide all you require for treatment
The evening before your treatment exfoliate the entire body using St. Tropez Body Polish
Wear loose dark fitting clothes and flip flops
Application
You enter the Airport and whilst standing in a warm air stream. St. Tropez Mist is applied by your therapist using a spray gun.
The treatment takes just a few minutes to cover the whole body. Following the application you stand in the airstream for a few moments to allow the tan to dry so you can step back into your clothes straight away after the treatment.
Once leaving the salon
The tan will start to develop 2-3 hours after the application and continue up to 24 hours. Therefore it is preferable not to shower up to 8 hours after the application.
It is recommended that you do not take part in any activity, which may cause perspiration during development time.
Maintaining Your Tan
With correct aftercare you tan will last longer. It is recommended to apply daily St. Tropez moisturizer, a hydrating body lotion containing l-tyrosine. This ingredient activates the melanin in the skin ensuring your tan lasts the longest possible.
Exfoliate your skin with St.Tropez Body Polish lightly every 2 days to ensure your tan fades evenly. Avoid swimming pools as chlorine will bleach your tan.
If you suffer from ssliratory problems please consult your doctor before booking.